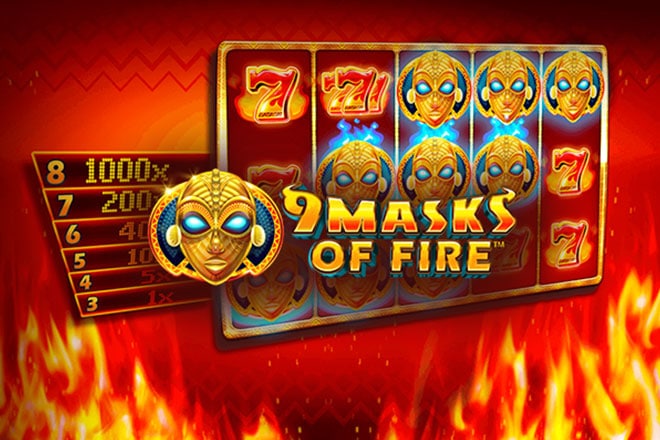 9 Masks of Fire Slot
Popular Microgaming 9 Masks of Fire online slot game brings users deep into the jungles of Africa, searching for riches. The game boasts a unique theme as far as online casino slot games go, offering similarly exciting mechanics at play as well, making the game stand out from the crowd. It's a title made by Gameburger Studios, a famous software developer working with the Microgaming umbrella. You can play 9 Masks of Fire at all online casinos offering Microgaming titles such as 888 Casino.
Pros and Cons of 9 Masks of Fire Slot
The 9 Masks of Fire slot game comes with three reels and over 20 paylines, boasting a unique African theme that you can play on most mobile devices. It offers many bonuses, including free spins with multipliers and more.
However, like most games offered in online casinos, it has its pros and cons, including:
Unlimited retriggers for free spins bonus
Plenty of bonuses and other freebies
Mask scatter symbols has generous winnings
User-friendly features and high 96.24% RTP
Fire 9 masks 2000x top prize isn't as big as other offers
Symbols used needs to be more distinguishable
User-Friendly Casino Game
Fans of classic online slot games or land-based casino slot machines will undoubtedly love 9 Masks of Fire since it's simple and easy to use, offering no complicated special features. This casino game makes it easy for newbies to grasp the online gambling concept. This Microgaming title boasts decent graphics, a unique theme, and easy-to-play slots, while the 9 Fire Mask/Shield Scatter symbols help you land big wins and have plenty of fun.
You can use the Mask Scatter symbols to win up to 2,000x the best, while the other triggers up to 30 bonuses with win multipliers. Meanwhile, the grand prize goes up to 7,500 times the bet.
Playing 9 Masks of Fire Slot
This Microgaming title uses a unique tribal African theme that works in the most subtle way possible, but it does a great job engaging gamblers. The game's gold and red color scheme may seem overwhelming at first, but it sets the African tribal theme perfectly, establishing a clear visual identity. It's a relatively straightforward 5-reel slot game, boasting over three rows and 20 paylines. The goal of the game is to hit either Scatter Masks symbols or free spins.
Who Can Play?
Although 9 Masks of Fire slot games isn't one of the all-time favorite titles of avid gamblers, it's still a relatively great game. However, anyone from beginners to veterans can play this game since they don't have any complicated elements. Its highest multiplier and bonus features are enticing enough to make seasoned gamblers enjoy playing and spinning the reels. There's no need to join in the tribal chant as your winnings will be easier to come by than performing any rituals.
You can give 9 Masks of Fire slots a spin for free at most online casinos. Plus, there's no need for you to deposit as most casinos offer 2000x free-play credits to spend however you like. It's best to play between 150 to 200 free spins or demo spins before seeing if you'd like to bet real money on this game. You can play 9 Masks of Fire online slots through its autoplay function, where you could pick from 10 to 100 auto-spins or spin the wheel in lighting mode with faster spins on your mobile device.
Can I Trust this Slot Game?
The 9 Masks of Fire game is licensed and regulated in Great Britain by the UK Gambling Commission, making it a reliable and one of the most trusted online slots out there, offered in the most prominent online casinos. If you don't mind going in the middle, 9 Masks of Fire could be the perfect casino game for you. It has an ideal mix of low and frequent wins alongside higher and less frequent wins, keeping the game interesting. Plus, its return to player (RTP) percentage is 96.24%, which is relatively average, allowing you to be in for a decent payout if lucky.
With the UK Gambling Commission's certification and fair rates, players can be confident enough that 9 Masks of Fire can be trusted, giving everyone a fair chance of winning big. Plus, the game comes with a free spins bonus, so you can test out the game before making your first deposit.
How To Set Up Betting?
When it comes to the 9 Masks of Fire slot game's full betting range, players need to spend at least $0.20, with $60 as the maximum level or stake per spin—and this should allow for line bets of $3. The game's prizes are more significant than most Microgaming titles you'd come across, offering top rewards reaching around 2,000x total stake, roughly about $120,000. It comes with a 39.75% hit rate or frequency, meaning any player has a 40% chance of facing a winning combination when they spend that wheel.
The max winnings per spin are 2,000 x your bet. But the 2x and 3x multipliers can give players put to 5,000 or 7,5000 x each winning stake on all free spins with multipliers. You can play 9 Masks of Fire slots across all compatible iOS, Windows, and Android mobile devices on any reputable online casino. All you need to do to start playing the game and win real money is sign up for an online account for the online casino offering it, deposit some cash on your casino's bankroll account and play from there.
Where can I play the 9 Masks of Fire online slot?
The 9 Masks of Fire online slot is available at the best online casino sites in Canada. Here is our list of the best Canadian casinos where you can play this slot game.
9 Masks of Fire Slot Exclusive Offers
Another exclusive offer of this slot game is additional bonus symbols that can help you grab extra wins. The diamond is a wild symbol, making it stand in for others to complete combinations or expand a "win" across more reels. However, it can't substitute for the masks of fire 9 nor the shield and spears symbol. These symbols payout 1x your total bet, unlocking a bonus "free spins round" when each symbol is seen in three places at once.
This free spins bonus offers you a bigger chance of winning a lot, and the fortune wheel you spin to reveal how many games play out and win multipliers active throughout the round. All ten wedges of the wheel contain several free games and a multiplier, allowing you to get 10 and 30 free spins with wins doubled in value or free demo games where prizes get tripled, respectively.
Overall, the popular 9 Masks of Fire Slot is a decent classic gambling game, boasting a solid RTP, fun features, and promises an overall good time. After you understand some of its quirks, you'll likely warm up to it—and reel in the big bucks in no time. You can find the Masks of Fire online slot game in any reputable casino, so sign up and give it a spin!