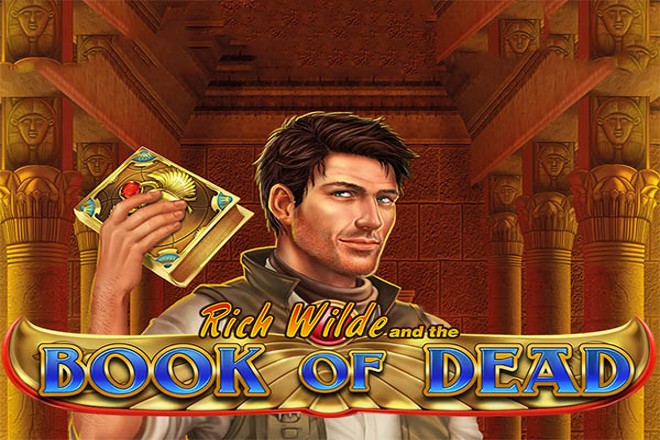 Book of Dead Slot
When it comes to online casino games, Book of the Dead is one of the most popular slot games that you will ever know. It is the signature game of the software provider "Play'N Go". It is available in almost every casino in the world. The game is well-known among casino players who love spinning the slots, and it is understandable. The game has a lot of features that keep players playing. The hunt for treasures is indeed exciting and the game continues to be a popular choice among new and seasoned players.
The pull of the Book of the Dead slot game is probably because of its exciting storyline. It has an Egyptian – Indiana Jones theme that promises to bring wonderful riches to those who are daring enough to try. As you team up with the main character – Rich Wilde, you will have chances to spin the Book of the Dead and win some wager as you win over the odds on this adventure game. Read on to unravel the mystery of the game in this wholesome review.
Book of Dead Slot – The Pros and Cons
Free spins with expanding symbols
Playable across devices
Huge maximum payout possible
Single player only
Needs more action
Classic playing cards
How to Play the Book of Dead Slot Game
The Book of Dead slot game is one of the most exciting welcome games that you can play at almost all online casinos. The story involves a lot of secrets and one of them is finding the location of the abundant wealth kept by the ancient pharaohs. The book itself is a Wild that you can use as an option for all other symbols. It also works as a Scatter that triggers the game's Free Spins.
When getting inside the tomb of the Pharaoh, you will meet Rich Wilde. This character is the highest paying regular symbol at the Book of Dead 2014 release. You will also see the symbols of the Pharaoh, Blue Eagle, and Anubis. Some low-value symbols are those represented by simple cards.
There are several traps that can get you inside the tombs of the pharaohs. Thus, you have to be cautious as you explore this part of the game. Fortunately, the 2014 game release is a straightforward slot, thus most of it is out in the open. The slot features a 5 by 3 reel and you can take advantage of the 10 adjustable pay lines running from left to right.
You can get high-value icons when you play for two of a kind, and those low-paying symbols can give you some payout when three or more appear on the pay line. You can start playing with real money at $.10 per spin. But you can change the value and start playing at $50 per spin.
Book of Dead Slot Features
The Book of Dead online casino game uses a standard 5 reels 3 rows navigation with 10 active pay lines that will bring your winnings. The gameboard is displayed with imposing gold pillars depicting a luxurious golden tomb in the background. And as expected, you can see Egyptian-themed symbols on the reels, but there are also classic card symbols.
Play'N Go did some makeover with the card and symbols so they look like ancient Egypt hieroglyphics – even the low-paying cards. Meanwhile, the higher paying symbols represent ancient Egyptian mythical characters. There is a lavishly dressed Egyptian eagle, a Pharaoh wearing a golden mask, the Canine-headed god Anubis and the main character of the story – Rich Wilde.
The Book of Ra is considered as a Wild symbol and wild, and when it makes a successful combination, it can get you free spins and a chance to play the game's special features.
Expanding Symbol
As mentioned, the Book of Dead slot game has a special feature that is only available in the free spin rounds. You can get into this when you land three or more scatter symbols in the action of the Book of Dead game. Once you get into this feature, you will choose a random symbol. This will be your expanding symbol before you throw your first spin in this round.
Each time the chosen symbol gets matched on the reels and becomes part of the combination, the expanding feature starts. It will expand to cover the whole reel from top to bottom. That means that you get an increasing number of combinations on the gameboard which potentially leads to bigger winnings!
It promises even better results if the symbols will land on the reels while you do free spins. You can get as many as five reels complete with the expanding symbols, however, you can normally get only two to three reels filled with these expanding symbols.
How to Get Free Spins on Book of Dead
Getting free spins is an exciting chance for casino players to continue playing and winning without the risk of losing their own money. When you get free spins from Book of Dead, your chances of winning more are doubled or tripled. But how do you get free spins in this game? While you spin on the Golden Book of Dead, you can land three or more scatter symbols on the reels. This will lead you to the Free Spins Rounds. You can get a set of 10 free spins where you can have a blast and make it big.
But before you start spinning during this round, the game will pick out a symbol. And you have to play with that symbol and land on the reels. When you successfully bring them into a combination, the symbols will do as they are featured – they will expand. It will convert the other symbols on the reel to copy itself. It means more winnings for you while you play during the free spin rounds.
Slot RTP and Volatility
One of the reasons why Book of Dead by Play'N Go slot games are very popular is because of their high RTP. This legendary Play N' Go slot has a 96.21% RTP. It means the 96.21% proceeds of the game goes to the players. Only 3.79% is the house edge or the amount that the casino gets from the investments.
This percentage is also applicable in land-based casinos as they set their own house edge. On the other hand, the volatility rate of this slot game is quite high. It means that winnings are very sparse, but when it comes, they are quite big compared to those with low volatility.
Despite the RTP and Volatility rates, many players reveal that the Book of Dead responds well to higher wages. It matches the quote about really favoring the bold.
Playing For Free
Many, if not all online casinos offer the Book of Dead slot games in their lineup. You are also allowed to play for free whenever you wish. When playing for free, you do not have to put in some bet. But be aware, you will not get a dime out of it too. Free play at this slot allows you to test the game or practice as much as you want. It is a great option if you simply want to try it out before you start playing for real money.
Playing for Real Money
You will not regret playing for real money and investing in this adventure slot game from Play'N Go. If you love archeology, Egyptian mythology and anything that screams thrill and mystery, playing the Book of Dead will certainly be a hit for you. Apart from providing much entertainment, it also gives you excellent chances of winning. Simply signup at your casino of choice, load up your account with funds, and start playing at the Book of Dead!
Play Book of Dead Slot Payouts
This popular slot machine game offers as much as 250,000 coins in payout! If you set the value to the maximum, you can end up winning as much as $250,000 in a single play. Some of the exciting offers you can get with Rich Wilde are 5,000 coins for five of a kind, or a Pharaoh on the pay line can get you as much as 2,000 coins. If you are lucky to make it the Free Spins feature and get an expanding symbol, you can win even bigger!
How to Win at the Book of Dead
Like any other online casino games, playing at the Book of Dead slot machine is playing by chance. There is no secret to winning the jackpot each time you play Book of Dead. If you are hoping to make it big, you can simply play long enough and hope for a grand bonus round. It is possible to win some jackpots in standard play. However most of the winnings are best made in the free spins rounds.
Conclusion
The winnings by playing at the Book of Dead slot might not be as high as other progressive games. However it is a grand winning compared to other types of slot games. It has become extra popular because of the high RTP rates and the potential high winnings. The Book of Dead is not just entertaining with Rich Wilde and the ancient Egypt theme. It's also a favorite spot for casino players from around the world.