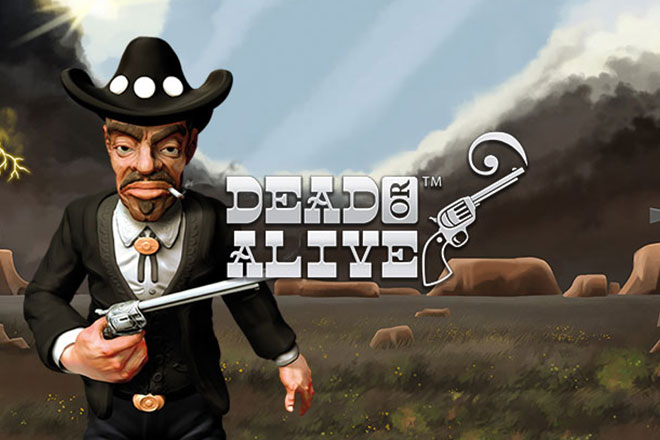 Dead or Alive Slot
Dead or Alive is a popular and iconic slot game made by renowned developer NetEnt Studios. It's a jam-packed casino game with nonstop action and stunning designs fitting perfectly with the Western theme—and when you pair it up with its ridiculously high bonuses and multipliers, players can win over millions in cash prizes. Whatever your preferences for a casino game may be, the Dead or Alive slot game by NetEnt isn't something you could ignore.
Dead or Alive Slot – The Pros and Cons
Dead or Alive slot game consists of 9-line, 3 rows, and five reels, sporting a Wild West theme filled to the brim with action and payouts. With its stunning graphics, big payouts, and generous bonuses, any avid gambler would love to head on to the reels of Dead or Alive and test out their luck.
However, before you enjoy the Old West, play, and start gambling to win big money, remember that Dead or Alive has its unique set of benefits—and flaws.
Rich in variations
RTP of 96,82%
Appealing bonus rounds
Potential high losses due to high volatility
Bonus and Promotions: Free Spins with Sticky Wilds
Although Dead or Alive is a fun slot game, it's still gambling, which has never been solely about skills. Remember, big jackpots go to the lucky ones, which is even more applicable in online slots and brick-and-mortar casino slot machines. However, it can be challenging to estimate a percentage appropriate for all spins out there—and when it comes to Dead or Alive, with a CA$25 maximum bet, you won't waste much before getting a chance to score a winning bet. Plus, its generous bonuses and promotions can help you win big without spending a dime.
Dead or Alive Slot Free Spins
Like most popular games of slots, the most common bonus casinos offer is free spins, and in Dead or Alive, it's no different. You can win free spins when you land three or more of the "Guns Symbols" simultaneously anywhere on the reels. Afterward, you'll receive up to 12 free spins or more, with all your wins doubled with a 2x multiplier. Besides that, you'll win a cash prize before playing Dead or Alive slot games, depending on how many times the reels trigger the Gun Scatters symbols. However, regardless of the number, you could receive anywhere from 4x to 2500x your initial bet. Plus, you can reactivate the feature when you land on three or more Gun Scatter symbols on any position on the reels.
Sticky Wilds
Free spins also feature a "sticky wild symbol," where the symbols here are a "Wanted Poster symbol," which eventually turns into a sticky wild during the bonus game feature. All these let the symbols remain in their original positions the free spins feature—and if you get one or more of them, you'll receive five extra spins. Additionally, when the free spins feature ends, all your winning will get added to your cash. So, you can rest assured all your cash prizes, and other wins are secure and safe, and you can cash them out with ease.
If you're feeling courageous enough, want to cash out big, and are willing to take a risk, play Dead or Alive, set your bets, adjust coin values, take advantage of their bonuses and promotions—and win real money and enjoy succeeding wins in the Wild West. In most online casinos, the best part is they won't require you to make a deposit to play or place a bet.
User-Friendly Platform: Play Dead or Alive Slot Game
The Dead or Alive slots game is played with 3 rows, five reels, and a 9-line, with a winning line-up, formed when three or more identical "symbols" are shown on the 9-line reel remain in place, starting from reel one. These include Cowboy Boots, Wanted Poster, Wild, and Gun Scatter symbols. You can exempt the scatter symbol. That's because it let players form a combination of two symbols in any position to score wins. This online slots game caters to all players, having stakes from CA$0.09 per spin to a maximum of CA$25 per spin. It's relatively simple, where all you need to do is spin the wheel, and there's even an autoplay setting where you can use auto spin the reels 10 to 1,000 times.
When clicking on the Advanced settings, you can customize the online slot game's Autoplay experience with stops on the wins you get if the reels trigger free spins bonus feature or a win exceeds a chosen amount. Finally, it has a quick spin option where you can spin the reels faster than usual. When it comes to variation, Dead or Alive slots have a lot to offer.
RTP and Volatility
Although wins will be less frequent than in other games, playing Dead or Alive may lead to bigger wins. The hit frequency of this slot game is 30.4%, meaning every ten spins, you win three times. The chance to trigger the Free Spins feature is 0.66% on any spin.
Although this may sound like you'll be playing for a while, playing Dead or Alive slots is well worth it because compared to classic video slot and other online slot variations, this title has a maximum win of 12,000x the original stake per spin. All these mean you can win around millions in this single casino game, plus its high RTP rate promises big returns in line. You don't need to make a deposit to play the game and start gambling since it mostly functions in free spins.
Who Can Play Dead or Alive Slot?
NetEnt knows what they're doing, and it shows in their broad line of fantastic games. That's why it shouldn't come to anyone's surprise that Dead or Alive has been optimized for all devices possible, including mobile phones and tablets, similar to their other casino games. You can now join and play like a cowboy with Dead or Alive on your phone, boasting smooth and high-definition graphics. You can also adjust the spin button to make it more convenient for you, allowing you to play in the best way possible while you wait for the Scatter symbols to show up. It's all in the details, and NetEnt didn't disappoint with this game, enabling players regardless of their preferences to enjoy it.
Betting in Dead or Alive Slot Game
Dead or Alive slots by NetEnt caters to all kinds of players with all types of budgets, and unlike some other games by the developer, it has a lower betting range. It allows you to bet from CA$0.09 to CA$25 per spin, a more manageable bet limit. Players can also modify their coin values and other aspects using the toggles below the reel to get the perfect bet. Additionally, you can hit its maximum bet button for the top coin values on all reel spins or set Autoplay to keep betting on each reel spin until you reach a set number of spins without continually resetting.
You can bet using the spins bonus offered by most online casinos. However, if you're looking to cross the line and bet everything you have within a reasonable budget, you can pay real cash aside from the bonus given and deposit some into your cash account to win even more. Regardless, you can ensure all deposit and pay-out processes are secure.
Exclusive Offers – Multiplier Wins and Bonus Rounds
If you're feeling lucky, you may stand a chance to get a massive 29 free spins bonus round with which you'll have a 2x multiplier doubling every win on each level. That means you get double your initial winnings as you use the additional slot spins you received, and when you add that to your sticky wilds, you're bound to accumulate a substantial payout from the casino game. Plus, when you get many of them, you have the chance to win big, where you can multiply your total bet up to 3000x per free spin you use.
Another exclusive offer from Dead or Alive is the bonus feature which can bring you millions. The goal here is for the player to hit at least three scatter symbols on the reels to activate the free spins bonus. If you're lucky to hit one on each real, you'll get rewarded 2500x your initial stake and proceed to the next step. There you'll also get notified you have 12 free spins. After that, you can choose between the Old Saloon, Train Heist, and High Noon Saloon features, where all work to increase multipliers, sticky wilds, or both. If you hit any marks here, you get more free spins.
Where can I play the Dead or Alive online slot?
The Dead or Alive online slot is available at the best online casino sites in Canada. Here is our list of the best Canadian casinos where you can play this slot game.
Extra Free Spins and Sticky Wilds
Although the decision will be up to you, most avid slot players would go for the High Noon Saloon for higher stakes. That's because the feature involves NetEnt's MAX concept, meaning every sticky wild symbol you receive has either a 2x or 3x multiplier attached. Overall, you get five extra free spins for each additional sticky wild even without making a deposit, and its coin value is multiplied by other sticky wilds. In essence, with a bit of luck, you can cap your winnings at nearly millions, allowing you to leave the bonus round richer than ever before.
There's plenty to like about this iconic slot game, standing up against many of the developer's recent games and title releases. That's not something all developers can say about their casino games, bringing NetEnt to the next level. Dead or Alive boasts outstanding potential, from its free spins bonus round to its main game—making it more compelling to play. Plus, its wide bet range allows it to cater to more players, giving everyone a chance to join in the Wild West, be a cowboy, and play to win big.