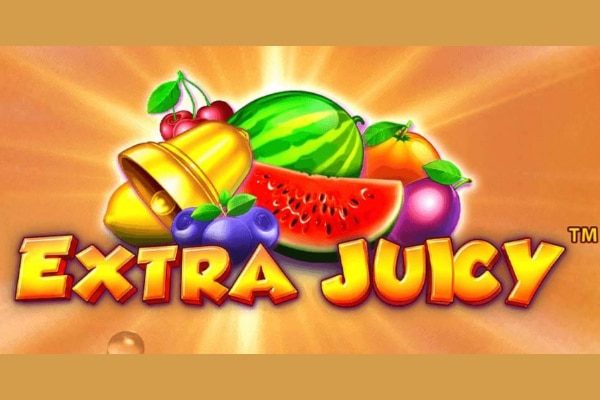 Extra Juicy Slot
The Extra Juicy slot is a video slot released by one of the most well-known names of the casino industry, Pragmatic Play. The Extra Juicy game was released in 2019 but got its latest update on the 6th of July in 2021. As you might have figured from the name, it's one of many fruit-themed slots, hence the juicy name. With this Extra Juicy slot review, we're going to look closer at what features are available and what to expect when playing the game. It's an online slot machine with high volatility and with 5 reels and 3 rows. You can win from any of the 10 paylines in the game and the max win is 60,000x your stake.
About Extra Juicy Online Slot
Slot Provider
Pragmatic Play
Extra Juicy RTP and Wagering
The Extra Juicy slot features a 5-reel and 3-row layout for players along with 10 paylines. For being a new game, the overall feeling is very simplistic. It's one of many fruit games and players can bet from €0.10 up to €50 per spin.
Extra Juicy is a slot where less is more. Here, Pragmatic Play chose to make the game very straightforward both layout-wise and gameplay-wise.
When talking about RTP this game comes with one set to 96.52%. Winnings are spread over the game and within the free spins bonus game. It's a very high volatile game although its looks are simple. Don't get fooled by the simple looks though, a full 60,000x your stake can be won through the maximum win. There are scatter symbols in the form of diamonds that take you into the lucrative Progressive multiplier free spins game.
Symbols and Audio & Video Design
The Extra Juicy developer Pragmatic Play has chosen to make this game feature lots of fruits and a simple theme. It has a big resemblance to old school bandits you'd find around gas stations or floating casinos back in the days, sure, the graphics have come a long way, but the game itself is pretty close to its original. Only one feature differentiates his slot machine from retro slots with similar themes and that's the bonus game.
Creating a winning combination is easy, you will need to get 3 or more symbols in a row. The 10 paylines allow you to create the rows wherever within the game, so it won't have to be starting from the leftmost reel. Each game round is unique unless you enter the bonus spins, there, you'll find a progressive multiplying feature that keeps adding until your free spins have been completed.
The value symbols featured in the game weren't compiled with much imagination. Pragmatic Play took old symbols and tried making them new again, we are not completely sure if they succeeded. Take a look at the table below to find all symbols and the exact amount they pay.
Low-value symbols include Cherries, Lemons and Oranges. Medium-value symbols of the game is Plum and Blueberries. The last two, and, most valuable symbols are the Watermelons and the Bells. As you might have heard by now, very resemblant to old classic slot games.
We also come across the Diamond wild symbol. This one pays 2x the bet as well as takes you into the bonus game, hence it could be considered the best one.
Cherries
3, 4 or 5 = 0.2, 0.5 or 2x stake
Lemons
3, 4 or 5 = 0.4, 1 or 5x stake
Oranges
3, 4 or 5 = 0.8, 2 or 10x stake
Plums
3, 4 or 5 = 1.2, 5 or 15x stake
Blueberries
3, 4 or 5 = 2, 10 or 25x stake
Watermelons
3, 4 or 5 = 3, 2.5 or 50x stake
Golden Bells
3, 4 or 5 = 5, 50 or 100x stake
Diamond
Diamond on row 1,3 and 5 pays 2x stake and starts the bonus game
Extra Juicy Mobile Features
Although the Extra Juicy slot machine looks like a very traditional slot game, it has been adapted for play on all devices. According to the developers at Pragmatic Play, they especially had tablet users in mind when making the game. Understandably, you won't lose out on any game feature no matter what device you are playing. They've even made sure to include a battery-saving option for mobile device users.
Extra Juicy Bonus Features
The Extra Juicy slot is very straightforward as we mentioned, no revolutionizing special features have been added to the game. It has a simple design but does however feature a lucrative bonus game where players can win up to 60,000x their bet. Quite a lot when compared to other games when keeping in mind that it's not a jackpot game.
To enter the Progressive multiplier free spin game, players have to get the Diamond scatter in rows 1, 3 and 5. Hitting those will instantly take you to the bonus spins.
Free Spins Feature
As the game is very simple in its style, the feature to look out for and reach to get the big winning combinations is certainly the bonus game. By hitting the Diamond scatters, players get 12 free spins awarded. During these spins, every game gives the chance for larger wins.
This is thanks to the progressive multiplier in the game. The first round will pay like a regular game round, but after that, every round in the free spins game adds +1 to the win multiplier. This gives 1x, 2x, 3x etc. all the way up 12x the original amount of the win. Hitting a high-value symbol when on the last rounds of the bonus spins is certain to pay really much.
During the bonus feature game, hitting the 3 Diamond scatters once more will re-trigger the spins and award you another 12 spins, and the multiplier increases up 24 the second time, 36 the third time and so on. The maximum you can re-trigger the free spins is 4 times.
Extra Juicy Jackpot
Although there is no jackpot to win in the Extra Juicy slot, you'll have the chance to win really big through the progressive multiplier, all the way up to 60,000x your stake. Getting there might take some time though, we played for a while without becoming successful in re-triggering the bonus spins.
Extra Juicy Biggest Wins
Since the Extra Juicy slot machine has been around since 2019 so some big wins are sure to have been seen. But we scorched the web trying to find some, and all we came across were users filming their adventure. Many won over 800x their stake, quite far from the advertised 60,000x though. One thing is for sure, most players don't film themselves playing so many more big wins have certainly been paid out.
Extra Juicy Summary
The Extra Juicy slot is a game we were not too excited about after trying it. It feels way too simple to keep up with modern standards. But sure, many players appreciate a remade classic every once in a while. The game comes with fruits of the same type as other fruit-themed slots. The base game itself is one that could be made a lot more fun.
With 10 paylines, 3 reels and 5 rows, players have some chances of winning but nothing exclusive at all. Wins are small unless you hit some of the high-value symbols and preferably at least 4 of them. The only thing that could make the game worthwhile is of course the bonus game. Getting into it is certain to pay out well, and that's only thanks to the win multiplier that keeps increasing for each round. But still, you'd want to hit those high-value symbols in there as well to win a decent amount.
How High is the RTP?
Overall, we feel that other Pragmatic Play games might be more fun to play. They left a lot to wish for, in our opinion, with this one. There is nothing much to make the game stand out, it rather feels like a quantity game to add another title in their portfolio.
Sure the RTP of 96.52% and the chance to win 60,000x your stake may seem good. But bear in mind that those large wins come in the bonus game, the game is highly volatile and you will have to play for a while before getting there unless you are very lucky. Should you, however, be a player who just wants a simplistic casino game with no added special features that make it something extra, this might be the game for you. It's reminiscent of old-style slots but with an added bonus feature.
Where can I play Extra Juicy online slot?
Extra Juicy is available at the best online casino sites in Canada. Here is a list of our top recommendations of where you can play Extra Juicy.
Extra Juicy FAQ
Here are some of the most common questions that players from Canada asked about the Extra Juicy slot.