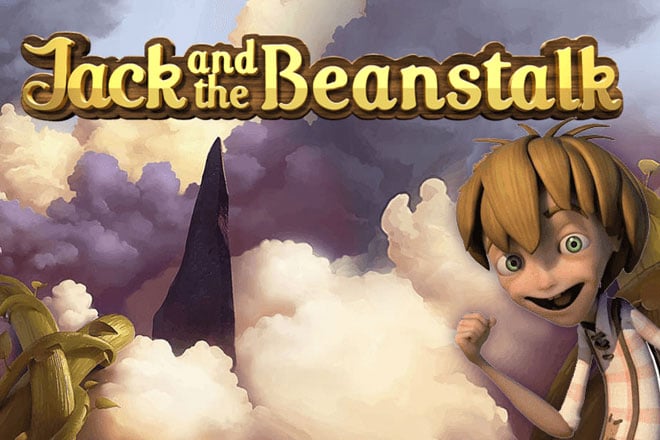 Jack and Beanstalk Slot
Jack and the Beanstalk conveys a story of a little young boy on a hunt who wants to become wealthy through a magical escapade. You might have definitely heard this story as a child, but did it ever occur to you that someday this fairy tale would turn into a slot game? Well, if you haven't seen this fairy tale then do not miss it at the start of the game because it has a great moral behind it.
When you open the game, it starts this escapade with twenty bet lines and a fundamental five-reel window. Well, this is just the start, the real fun begins when Jack moves forward and comes across giants, that is when you will also discover the giant-sized features like re-spins, walking wilds, win presentations, free spins, and also find a bonus treasure collection game. Not just these, we will discover many other reasons why you should at least try this slot game once.
All you have to do is follow Jack as he scampers up the beanstalk, then get a chance to discover auxiliary kinds of wilds as and when you pick up the keys and then get a tip with free spin bonus games in 'jack and the beanstalk'.
Pros and Cons of Jack and the Beanstalk Slot
Packed with features
Wilds triple wins and activate respins
The Free Spins feature with different kinds of Wilds
User-friendly features and high 96.28% RTP
Generic playing cards
The Golden harp expanding Wild does not appear that often
Too Poor or Too Rich!
The wagers are very flexible as a minimum bet in a slot is CA$ 0.20 and a maximum wager in a slot goes to CA$ 100. There are a total of ten bet levels, with the highest jackpot payout worth six hundred thousand. The jack and the beanstalk slot game come with three rows, five reels, and twenty pay lines. Five symbols out of a total of ten symbols in this slot game pay out big winnings.
As the name says 'jack and the beanstalk', jack is the highest paid symbol. And if the gamer achieves a combination of a total of five jack symbols anywhere on the reel, he will be capable of earning up to a thousand (1000) coins. This slot game comes with high volatility and an RTP (return to player) of 96.28%, which is quite huge. The gamers are assured of a good amount of return on their money and time invested.
Want to Feel a Real Forest-like Atmosphere?
With a background of a farm-like landscape with a tree on the right-hand side corner of the screen and a hut on the left-hand side corner of the screen, the gamer is provided with an indelible and dramatic slot experience in the game 'jack and the beanstalk'. This slot game has extremely captivating graphics and sound interface. The player goes through a real forest-like atmosphere with those birds chirping and crickets.
Jack and the Beanstalk is a beautiful game with its three-dimensional graphics. It really dwells you into the story of the little young boy, jack. As you play this slot game you will observe that a butterfly flutters across the screen every now and then which displays Jack's yard and house in the background scene.
Apart from the main highly paid symbols like wilds and jack there are a few other smaller value symbols. They are represented by the two colored and four symbol suits of cards, specifically the cards jack, queen, king, ace, and ten. Other symbols also include a two-headed purple giant, a skinny goat, tattered watering can, and an axe.
Features of Jack and the Beanstalk Slot Game
Did someone just say free spins?
Except for the scatter symbol, the wild replaces all the other symbols on the reel and has the ability to appear on both free spins as well as the main games. The gamer moves to the left with one space or will be triggered into re-spins, every time a wild pops up on the screen. The winnings can become triple the wager invested if you are lucky enough to get at least one or more wilds on the reel.
In order to rack up greater bonuses and extend the gameplay, you can do with the most innovative and cool feature known as the walking wild bonus. The title of the game displayed on a red background is what describes the symbol of the wild feature. And as mentioned before, the player wins a free spin as and when the wild symbol appears on the reels. This entire process of shifting the wild goes on until the wild symbol flickers off the far-left corner.
The Ultimate Treasure Collection Feature
The treasure collection feature is most loved by the players. However, you can only access this feature if a key symbol appears on reel five. Once you have unlocked this feature, you will then be able to collect various wild symbols like three stacked golden hen, two stacked money bags as well as expanding golden harps. You will have to land on a total of three key symbols in order to achieve two stacked money bags. Similarly to get three golden hen, you will need to land upon six key symbols and achieve expanding golden harp by collecting a total of nine key symbols.
'A treasure chest filled entirely with glittering jewels' is a description of the symbol 'scatter'. To unlock ten, yes ten! For free spins, you will have to land on at least three or more scatter symbols over the reels. Players can re-trigger the free spins during the bonus round and three more scatters will provide you with five additional free spins.
Where can I play the Jack and the Beanstalk online slot?
The Jack and the Beanstalk online slot is available at the best online casino sites in Canada. Here is our list of the best Canadian casinos where you can play this slot game.
Play Jack and the Beanstalk Anytime and Anywhere
This slot game is very compatible and players can play it anytime and anywhere. It's accessible on all devices including Windows, Mac, or Linux operating systems, smartphones, laptops or even personal computers.
Why Should I Play Jack and the Beanstalk?
What makes this slot game exciting and fast-moving is the mere number of free spins and wilds that it provides. The enhanced control panel is worth appreciating for it allows you to display your present bet, coin value, bet value remaining coins, and earnings as well. It also provides you with an option of auto-play with a usual offering from ten to a hundred rounds and you can stop the auto-play at the selected monetary value. You can also stop the auto-play as and when you receive or win free spins.