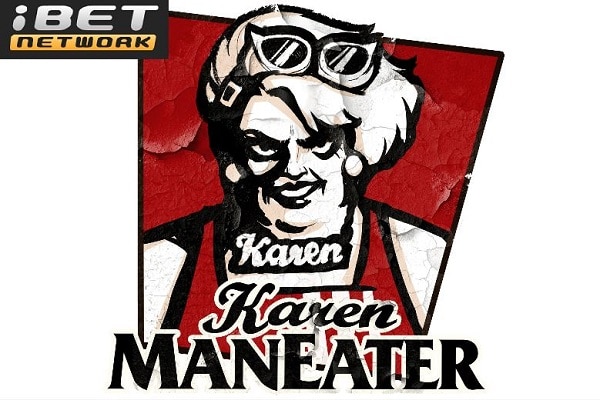 Karen Maneater Review
Karen Maneater is another irreverent slot game from Nolimit City. They have a reputation for creating slot games that have somewhat dicey subject matter. In this case, the eponymous Karen (of social media meme fame) is a disgruntled woman who is fed up dealing with managers. In order to get revenge, she literally eats them. If you can put the somewhat gruesome story to one side the game mechanics in this slot are quite interesting and there is a lot to get excited about. Find out everything about this slot game in our Karen Maneater review.
Although this is a somewhat strange game with a weird premise, it is actually billed as a sequel to the game xWays Hoarder xSplit. Karen Maneater takes place in the same post-apocalyptic world.
Let's delve into the game and discuss RTP and wagering.
Karen Maneater Demo
You can try out the Karen Maneater slot for free on our site. Just try it out below. Read the rest of our Karen Maneater review to find out everything you need to know about the game, how to trigger the biggest payouts and other game strategies.
Karen Maneater RTP and Wagering
Before we get into the RTP we need to point out the reel set-up in this game. The layout appears in a 2x3x3x3x3x3 format. A winning combination lands when you get 3 or more matching symbols on successive reels, beginning from reel 1.
The bet amount in the game ranges from $0.10 to $70 per spin. However, if you activate the xBet Feature which is the knob at the top left, you can increase the bet level by 30% giving you a range from $0.13 – $91 per spin. We will discuss the xBet feature in more detail below.
Karen Maneater has an RTP of 96% which is bang average. However, there is a version of the game with a lower RTP of 94.09%. Make sure to check the RTP before you start playing.
The game starts with a base of 486 ways to win. As the reels spin and the layout expands the ways to win increase accordingly. You can see the ways to win near the bottom of the reels.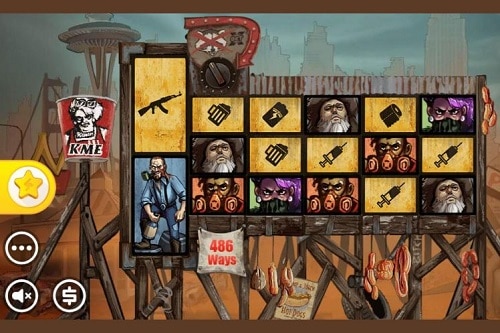 The max win potential for this online slot is 11,757x your bet amount. This is actually on the low side for other Nolimit City slot games. Since this is such a volatile game, wins come along on a regular basis, but the win amount varies a lot. According to Nolimit City, the hit frequency rate comes in at 24.58%, which means a winning spin around every 4 spins.
Symbols and Audio & Video Design
When you take a look at the design and symbols in this game, it really stands out among the competition. While other slot games focus on the tired themes of Greek or Norse mythology or some fairy tale leprechauns, the post-apocalyptic setting and funny symbols are refreshing in a black comedy sort of way. The background looks like Seattle with an abandoned Space Needle and other building husks in the distance. The reels spin on a haphazard wooden structure on which numerous salamis and other dried meat products are hanging. We don't want to think about where that meat came from…
The soundtrack is a clangy country music vibe which does not really fit in with the subject matter. We preferred playing the game with the sound turned off. Not sure if this is my imagination but it does not seem that many slot games are putting much effort into soundtracks and sound design anymore.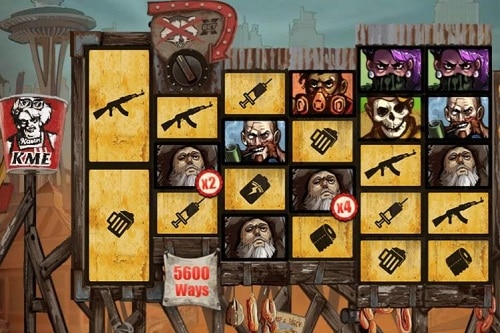 Instead of the common low-paying symbols like 10, J, Q, K and A. Karen Maneater has a number of icons that look like toilet paper, beer mugs, syringes, battery cells, and AK-47s. Landing these lower-value symbols will pay anything between 0.1 – 1x the stake.
The higher value symbols show a cast of motley characters who are living out their lives as best they can in this wasteland. You have characters like an Old Bearded Man sitting on a toilet, a drunk redneck, a steroid junkie, a demonic shaman, and Karen. Karen is the highest value symbol worth up to 3x the bet amount. There are also a number of special symbols like xWays, Scatters, and Wilds.
Check the table below to see full payouts:
Toilet Paper
3, 4, 5 or 6 = 0.1, 0.2, 0.3 or 0.8x stake
Beer Mug
3, 4, 5 or 6 = 0.1, 0.2, 0.3 or 0.8x stake
Syringe
3, 4, 5 or 6 = 0.1, 0.2, 0.3 or 0.8x stake
Battery
3, 4, 5 or 6 = 0.2, 0.3, 0.4 or 1x stake
AK-47
3, 4, 5 or 6 = 0.2, 0.3, 0.4 or 1x stake
Old Man on Toilet
3, 4, 5 or 6 = 0.3, 0.4, 0.5 or 1.2x stake
Drunk Redneck
3, 4, 5 or 6 = 0.3, 0.4, 0.6 or 1.5x stake
Steroid Junkie
3, 4, 5 or 6 = 0.3, 0.5, 0.7 or 2x stake
Skull Mask Shaman
3, 4, 5 or 6 = 0.4, 0.6, 0.8 or 2.5x stake
Karen
3, 4, 5 or 6 = 0.5, 0.7, 1 or 3x stake
Gas Canister Wild
Substitutes + triggers Infectious Wild feature when landing on reel 6
xWays
Transforms symbols + reveal symbols up to 4 in size
Infectious xWays
Reveals symbol up to 7 in size + transforms all instances
Sticky xWays
3+ triggers Bonus Meal features
Raccon Scatter
Only appears during Bonus Meal features
Mobile Features
Like all other modern online slot games, Karen Maneater is available on all devices including mobile and tablets. It was written using HTML 5 so you can easily play it on any device.
Bonus Features
This slot game has a lot of bonus features and makes it really stand out. Combined with the dynamic reels and insane volatility, this game can get quite exciting really fast. Let's go through each feature.
Scatters
The Raccoon Scatter symbol can only land on the middle four reels. Landing a Scatter will allow all reels to the right to expand to one extra position. Landing 1 or 2 Scatter symbols will convert to an xWays symbol. Landing 3 or 4 symbols will trigger Bonus Meal.
xWays and Infectious xWays
xWays symbols can only land on the middle 4 reels. xWays symbols transform into a regular paying symbol. A symbol of 2-4 in size will be revealed and increase the number of win ways.
Infectious xWays symbols can only land on the first reel and will reveal a symbol of between 2-7 in size. It will turn all symbols on that reel to become 2-7 in size. xWays and Infectious xWays symbols can only land in the main game and reveal the same symbol.
xBet
Once you activate the xBet feature this increases the base bet by 30%. This also increases your chance to trigger the Bonus Meal feature. This also inserts a Scatter symbol on the second reel.
Infectious Wild
Any Wild symbol that lands on the last reel will nudge itself to the bottom position. Each nudge increases the Wild multiplier by 1. The final Wild multiplier will also be added to each symbol on the last reel.
Bonus Meal
If you land more than three Raccoon Scatter symbols this activates the Bonus Meal feature. Depending on how many scatter symbols there are you will get a certain number of free spins and xWays on the reels.
Amount of Scatters
Reward
3 Raccoon Scatters
7 Free Spins and 3 Sticky xWays
4 Raccoon Scatters
10 Free Spins and 4 Sticky xWays
The Scatter positions will transform into an xWays symbol that will stay for the rest of the feature. The xWays symbols will be big burger symbols which are 2 symbols high and can grow with each winning spin to a maximum of 42 symbols high.
Bonus Buy Feature
If you are impatient you can click the Bonus Buy feature and get straight into the Bonus Meal feature with three different options. The cost ranges from 100x to 542x your bet amount. If you choose the Random Bonus Meal version, you play either the Value Bonus Meal version with an Infectious Wild or the Deluxe Bonus Meal version with an Infectious Wild.
Jackpot
Unfortunately, this is not a jackpot slot game, although it does offer players a total maximum win of 11,757x the stake. The slot is highly volatile, which means that winnings are spread out accordingly, it might be hard getting the max.
Biggest Wins
This slot game was very recently released. Due to this, no reports of huge wins have come in just yet. But we have no doubt that it'll change in the future, the game itself is quite fun to play and gains your attention and keeps it.
Where can I play the Karen Maneater online slot?
The Karen Maneater online slot is available at the best online casino sites in Canada. Here is a list of our top recommendations of where you can play.
Karen Maneater Summary
Although the max win amount is not that high the game is fun to play especially since it has so many bonus features and interesting designs.
This game is all about getting the xWays symbols and Infectious xWays symbols to increase the number of ways to win. The big wins are possible if you are lucky enough to combine the xWays symbols with Infectious Wilds and increasing multipliers.
If you can afford it and if it is available it might even be worth buying into the Value Meal feature as they can bring in the biggest payouts.
Try your luck on this new slot, turn off the music, and have fun with the irreverent theme. Good luck!
Karen Maneater FAQs
Here are some of the most common questions that players from Canada asked about the Karen Maneater online slot.