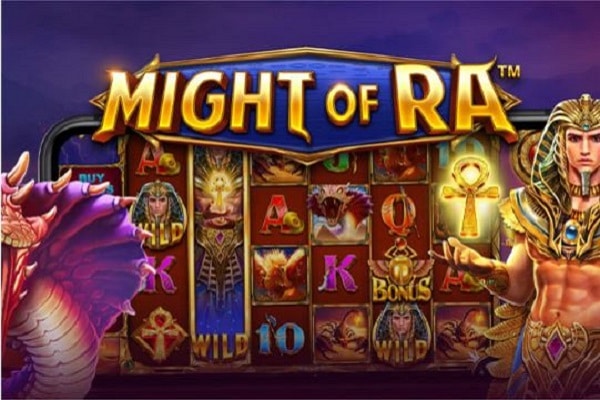 Might of Ra Slot
The Might of Ra slot was released recently on the 17th of February, 2022. It's another Egypt-themed game hitting the game libraries of online casinos. This online slot was developed by Pragmatic Play, a software developer with many well-known titles. The slot machine consists of 6 reels and 4 rows with snakes Pharaohs and everything you could expect from ancient Egypt. You can win from 50 paylines and the maximum win available is 22,500x your stake. We will take a closer look at the mightiness of the game in this Might of Ra slot review.
About Might of Ra Online Slot
Slot Provider
Pragmatic Play
Might of Ra RTP and Wagering
The Might of Ra online slot from Pragmatic Play features 6 reels and 4 rows. It's one of many Pragmatic Play slots looking like they use a similar base game. All in all, players have 50 paylines to win from and can place stakes ranging from $0.20 to $10 each spin.
Taking a look at the RTP of the game reveals a top RTP-level o 96.49%, quite high in comparison to older games, although many new ones range around similar digits. Winnings are spread throughout the game with the free spins bonus round providing the big wins.
The Might of Ra slot features high volatility and provides many small wins when in the base game. Getting a chance to enter the bonus round gives a max win of 22,500x the staked amount. To enter it, one must hit 3 bonus scatters in the same round.
Might of Ra Symbols and Audio & Video Design
The Might of Ra slot is yet another addition to the Egyptian themed slots from Pragmatic Play. Ancient Egypt seems to be very popular when looking at how many different slot games there are with a similar design. We'd appreciate more innovative ways of designing the game, but hey, if players like it, they like it.
Might of Ra uses similar symbols and scatter symbols as many other Egyptian mythology slot games, what differs this game from others might be the updated graphics and the bonus game. Overall, the Might of Ra slot still uses quite a simplistic design, you'll find the Pharao Ra on the right of the slot checking your gameplay and some pyramids in the background.
Getting a win is done by creating a combination of 3 or more of the same symbols, going from left to right. You can win even if they are not completely in line, thanks to the 50 paylines. But any winning combination must start from the furthest left. The game does not feature any chain reaction or similar feature, each round is unique and completed within the first spin unless you make it to the free spins round.
Symbol Value
You'll come across different value symbols, bonus scatters and a wild symbol. In the free spins feature, there are also some Ankh symbols. The low-value symbols are 10, J, Q, K and A. Landing 3 or more these pay between $0.20-$10.
Medium-value and higher-value symbols come in the shape of animals, going from Scorpion, Phoenix, Horse to Serpent. Then lastly you have the Ra symbol, which is also the wild symbol or the scatter symbol. The Ra symbol can add to your winnings quite nicely as it randomly transforms into a full reel wild with a 3x multiplying feature.
The last one you can hit is the bonus symbol, it quite clear which one this is as it says "Bonus". Land 3 of these to enter the bonus game. In the bonus game, you'd want to collect Ankh symbols, the Ankh symbol appears and can retrigger your spins and provide more wilds.
Check the table down below to see the exact payouts for the different symbols.
10
3, 4, 5 or 6 = 0.1, 0.25, 1 or 2.5x stake
J
3, 4, 5 or 6 = 0.1, 0.25, 1 or 2.5x stake
Q
3, 4, 5 or 6 = 0.15, 0.3, 1.50 or 3.75x stake
K
3, 4, 5 or 6 = 0.15, 0.3, 1.50 or 3.75x stake
A
3, 4, 5 or 6 = 0.25, 0.5, 2.5 or 5x stake
Scorpion
3, 4, 5 or 6 = 0.35, 0.75, 3.75 or 7.5x stake
Phoenix
3, 4, 5 or 6 = 0.5, 1.25, 5 or 10x stake
Horse
3, 4, 5 or 6 = 0.75, 2, 7.5 or 12.5x stake
Serpent
3, 4, 5 or 6 = 1, 3.75, 10 or 15x stake
Ra Wild Symbol
Substitutes all symbols. Randomly transform into full reel wild and 3x multiplier.
Bonus Scatter
3 or more trigger bonus game. 3 symbols pay 2x stake and 4 pay 5x stake.
Might of Ra Mobile Features
Any game developer in an online casino today will be certain to make their slot machines compatible with mobile devices. Pragmatic Play is no different in that regard, and the Might of Ra slot is available on all modern devices, regardless of whether it's a smartphone or desktop.
Casino players can enjoy the exact same game features on multiple devices. If you're playing on your phone, however, it might be a good idea to plug in your charger so you don't run out.
Might of Ra Bonus Features
Playing the Might of Ra slot game will be more fun if you manage to get into the free spins mode of the game. The base game is very simple without any exciting features, but the free spins feature is where the fun is at. Getting there might take a while, but the bonus symbols can be hit on all of the reels in the game, which makes it easier than on many other slots.
Getting the max win of 22,500x can only happen here. With help from the wild multiplier feature, Ankh symbols and re-spins, you're in for a treat. But first, you need to get at least 3 bonus scatters for Ra to let you enter.
Free Spins Feature
As we mentioned, the free spins feature lets you get big wins. Players who manage to hit enough bonus symbols can start with 15 bonus spins. Collecting winning combinations within the bonus game is done the same way as in the base game. But you can add to the progress meter on your left in the extra feature. Reel strips start with 54 wilds, but they add up as the progress meter goes up.
Ankh Symbol
To increase the meter requires you to collect ankh symbols during the bonus spins. Hitting these will increase your level and thus, more wild symbols will be distributed in the free spins game. The levels go as follows:
Level 1 – the starting level where you get 54 wilds available on the reel strips.
2nd level – collect 5 Ankhs and get +12 extra wilds added to the reel strips.
Level 3 – collect 5 more Ankhs and get +12 extra wilds added to the reel strips.
4th level – collect 5 more Ankhs and get +24 extra wilds added to the reel strips.
As you can see, reaching high levels will open up for some really big winning combinations. As wilds also randomly multiply your win.
Retrigger
You can also win additional free spins from the free spin game, you do so by the same measures as in the base game, hitting bonus symbols. If you hit 2, 3 or 4 bonus scatters, they will reward you with 3, 6 or 9 extra free spins. Getting extra bonus spins will also give you more chances of increasing the bonus game level.
Might of Ra Jackpot
Might of Ra is not a jackpot game, so there is no chance of hitting the jackpot. The maximum win available from the game is 22,500x, and as you might understand, it can only be won with bonus spins. You'd have to collect Ankh symbols for a while before hitting such a big win, but it's possible. Keep in mind that the game is highly volatile which means that getting there might require both money and time.
Might of Ra Biggest Wins
Although a 22,500x win is available, the Might of Ra slot was so recently released that we couldn't find any reports regarding the biggest wins as of now. It hadn't even been around for a month when we reviewed it. But keep an eye open to find out about big winners, with an RTP of 96.49%, some big wins are certainly cooking.
Might of Ra Summary
Looking back at this review of Might of Ra, we can't say that the game is in any way revolutionizing the industry. It's yet another Egyptian-themed slot from Pragmatic Play. We would've thought that players have had enough of these slots already but it seems not.
At least we can say that we are happy about the 50 paylines and the large max win of 22,500x. But the base game is quite standard, we would hope for more innovative ways in the future. Something we do appreciate about the game is the free spins feature, collecting Ankh symbols will definitely be the goal of all players enjoying this slot.
6 reel strips and 4 rows are what the mighty Ra has to offer us this time. Similar symbols are used as in moth slot games with the same theme even if the graphics might have been a tad updated.
The RTP of 96.49% is quite high for a slot, but with high volatility, most bigger wins come from the bonus spins and not in the regular game. So, to make it worth your while, we suspect you'll feel a need to get into the bonus rounds. Have a go and remember to play responsibly!
Where can I play Might of Ra online slot?
Might of Ra is available at the best online casino sites in Canada. Here is a list of our top recommendations of where you can play Might of Ra.
Might of Ra FAQs
Here are some of the most common questions that players from Canada asked about the Might of Ra slot.