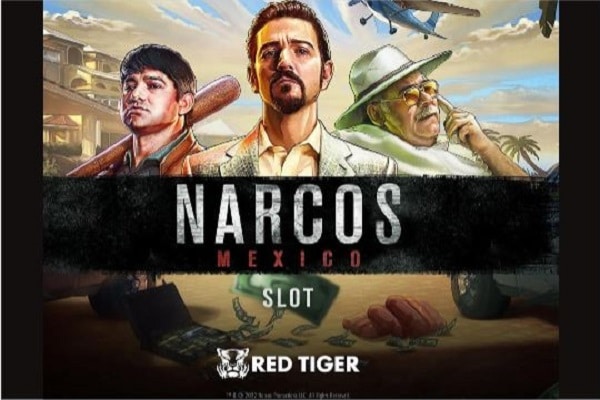 Narcos Mexico Slot
The Narcos franchise is returning in this new video slot Narcos Mexico which is based on the popular TV show. The original Narcos online slot was developed by NetEnt, but this time around, this slot game is developed by Red Tiger Gaming. The first game from NetEnt was quite a disappointment. The original game, Narcos, was released by NetEnt and had some high expectations attached to it. While that slot was decent, it did not really match expectations. Narcos lacked a really good standout feature and the max win was not that high. Luckily, Red Tiger has listened to feedback and they have added some new bonus games and increased the potential max win to 10,486x your stake.
About Narcos Mexico Online Slot
Narcos Mexico has the same kind of design as its predecessor with a cartoon style that somewhat mitigates the deadly subject matter of cartel drug wars. The slot layout is a 5×3 grid and the symbols, which we will go into more detail further in this review, all have a similar look to the original. There are five cartel bosses, palm trees, and mansions to set up the ambience. Let's get into the nitty-gritty of Narcos Mexico and discuss the RTP and wagering further.
Slot Provider
Red Tiger Gaming
RTP and Wagering
Narcos Mexico is a 5 reel 3 row slot with 243 paylines. If you hit any three matching symbols in any row, starting from the leftmost side, that counts as a win. The RTP of the game is stated as 95.7%, however, you should always be aware that online casinos can change the RTP, there is a bit of variance. All good online casino sites state all the RTPs of all their slot games. The stake range is between $0.10c – $10 per spin. This is lower than in the original Narcos slot game but the max win is so much higher than Narcos.
Symbols and Audio & Video Design
Red Tiger has always been well known for its excellent attention to detail. You can see this in the small details and impressive graphics within the slot and symbol designs. There is a huge mansion in the background, surrounded by bullet-ridden cars.
The six regular symbols are from 9 – A are nicely designed and each one has a weapon in the background or designed around it which makes each symbol stand out. The higher value symbols consist of the cartel bosses, each using their phones and making things happen. The Wild symbol is a package of drugs with a scorpion on top of it. The Wild symbol can appear on reels 2 – 4 and can replace any of the other paying symbols.
Here is a breakdown of the different symbols and how much they can pay out. If you get between 3 to 5 of any of these symbols it pays out as follows:
9
3, 4, or 5 = 0.4x – 1x stake
10
3, 4, or 5 = 0.4x – 1x stake
J
3, 4, or 5 = 0.4x – 1x stake
Q
3, 4, or 5 = 0.4x – 1x stake
K
3, 4, or 5 = 0.4x – 1x stake
A
3, 4, or 5 = 0.4x – 1x stake
Red Cartel Boss
3, 4, 5 = 0.5x – 2x stake
Green Cartel Boss
3, 4, 5 = 0.6x – 2.5x stake
Blue Cartel Boss
3, 4, 5 = 0.8x – 3x stake
Purple Cartel Boss
3, 4, 5 = 1x – 5x stake
Game Features
There are a few game features that occur in the base game, which we will discuss in more detail below.
The Supply Drop
The Supply Drop triggers randomly in the game. A cargo plane flies above the reels and drops packages that transform into Wilds on the reels. They substitute all paying symbols and can only land on reels 2, 3 and 4.
Double Cash
This is another random feature. At any point in the game after a winning spin, the prize amount doubles.
Bonus Features
Where Narcos Mexico really excels beyond the original version of Narcos is in the bonus features. There are some very interesting games available in the bonus rounds and once you start getting some wins. Let's go through each one in more detail.
Win Exchange
When you play Narcos Mexico and get a win of 100x your stake or more, you can exchange 100x your win for 3 Cartel Spins. If your win was over 100x you get to keep the remaining amount. If you win any amount from 30x to 100x the bet, you can choose to gamble that win amount to get 3 cartel spins. Once you opt to gamble that amount a Wheel of Fortune appears divided into red and green segments. The green segments are your chance to win. The size of the green segments depends on your chances of winning the gamble. If you land on red you lose.
Cartel Spins
Cartel Spins are the main bonus feature and they are triggered when 3 Cartel Spins symbols hit on reels 1, 3, and 5 in the base game or you get them from the Win Exchange. Once the Cartel Spins bonus game is activated you are transported to a new 10×10 board. The four different cartel leaders are positioned in each corner and they need to take over the board. Each Cartel Leader's territory expands when Mystery Territory symbols land adjacent to a leader or a Marked Territory symbol. Each Marked Territory symbol will increase the global stake multiplier by the amount displayed on the symbol, and the maximum possible total multiplier is 10,500x. Only the following symbols appear during this feature.
Mystery Territory – reveals a bet multiplier value.
Phone Symbol – doubles all multiplier values in the territory or territories it is adjacent to.
Plane Symbols – increases the multiplier values in adjacent territories by between 1 and 5
Mystery Territory Symbol
Mystery Territory symbols that land next to a Cartel Leader become Marked Territory symbols of the Leader's colour. They stay locked for the duration of the bonus round and expand the territory. All coloured Territory symbols display an initial multiplier between 1x and 5x that contributes to the total win multiplier, and this is paid out at the end of the bonus round.
Cartel War
When a Mystery Territory symbol is adjacent to two or more rival territories, a Cartel War is triggered. The Leader with the biggest turf wins the clash and acquires the territory of the rival Leader. The size of a Cartel Leader's territory is determined by the number of locked Marked Territory symbols of the corresponding leader's colour.
The Cartel Spins bonus game ends when all spaces are filled, you run out of spins, or the win cap is reached.
Narcos Mexico Jackpot
The Narcos Mexico slot does not feature a jackpot within it. However, with such a large max win of over 10,000x your stake will certainly make you feel like you've won the jackpot. As you always mention though, always play responsibly.
Narcos Mexico Biggest Wins
Narcos Mexico is a big upgrade on the original version of Narcos however it is still an upcoming game. It is due to be released on March 24, 2022. So, now wins yet, but as soon as the game comes out, is at the best casino sites, and the big wins begin, we will update accordingly.
Where can I play Narcos Mexico online slot?
The Narcos Mexico online slot is available at the best online casino sites in Canada. Here is a list of our top recommendations of where you can play Narcos Mexico slot.
Narcos Mexico Summary
If you are a Narcos fan or an online slot fan there is a lot to like in the upcoming Narcos Mexico online slot. We are happy to see the changes that Red Tiger Gaming implemented in this version. The increase in the max potential win and the really interesting bonus games make this Narcos slot stand out compared to the original Narcos slot. However, there is a trade-off where the bet amounts and RTP are lower than the original Narcos slot.
The game has nice graphics, the music is decent, it ties in well with the television series and is just a fun slot to spin.
With 243 paylines, 5 reels and up to 3 rows, we appreciate the efforts from Red Tiger Gaming. The only thing that can take this game up a level would be to have a jackpot attached to it for some really big wins. It would also be nice to see some kind of Narcos free spins bonus.
Our final verdict is that Narcos Mexico is an online slot worth trying. If you are a fan of some fast, furious and unmissable action, then Narcos Mexico is the slot for you. The Cartels are going to war, rival gangs are going to clash, all you need to do is choose your side.
Remember to play responsibly and never risk losing more than you can afford.
Narcos Mexico FAQs
Here are some of the most common questions that players from Canada asked about the Narcos Mexico slot.