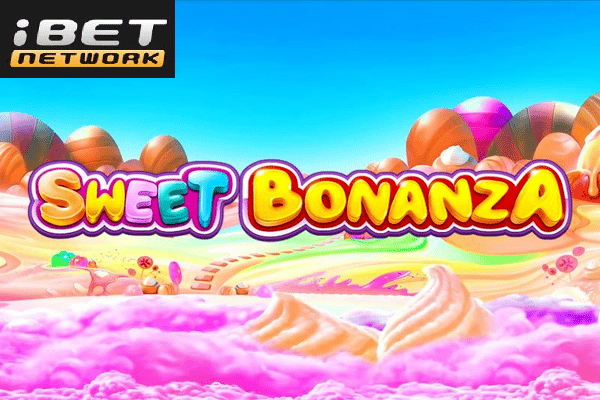 Sweet Bonanza Review
The Sweet Bonanza is an online slot game from Pragmatic Play where you can find a lot of exciting new features. Besides being one of the most popular slot games in Canada, it's also known for fun colourful visuals and being packed with lots of spins. It is such a popular slot game that it is in the top 15 in many rankings. Sweet Bonanza was released in June 2019 and its popularity is still increasing today.
You can win up to 21,175x your bet from a single spin. Let's delve deeper into our Sweet Bonanza slot review.
Sweet Bonanza Demo
Try Sweet Bonanza on our site for free and you can also read the review below to get to know more information about the features and the bonus that this game provides.
RTP and Wagering
Sweet Bonanza is a 6×5 slot game, which means 6 reels and 5 rows using the All Ways game engine. As long you get 8 or more identical fruits at any place in the reels you can get a win. Like any other cascading slot, each time you get the combination of 8 or more similar fruits they will disappear and more symbols will appear to take their place. This can cause multiple wins in the same spin. One of the best features of this game is the Rainbow Bomb symbol that can offer a 100x multiplier.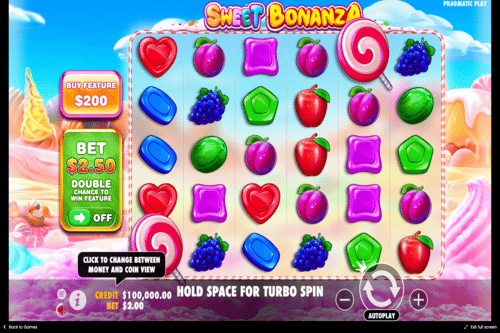 The minimum bet is $0.20 and the maximum is $100.
Like many other games from Pragmatic Play, there is an Autoplay function which allows you to choose from 1 up to 1000 auto spins. You can decrease or increase the number of spins and bet. When playing for the first time we always recommend starting slowly with less amount of money. This allows you to understand how the game works. If you want to use the Turbo Spin, Quick Spin or the Skip Screens you can choose to do so. It´s always good to remember that when you play in faster modes the probability of your bankroll increasing or decreasing is higher than playing in slower modes.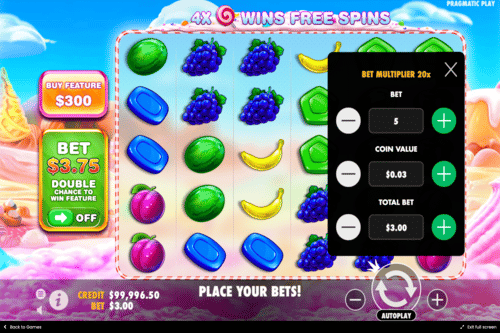 Sweet Bonanza has an RTP of 96.48%, which is slightly higher than the industry average of 96%. The slot game has a potential max win of 21,175x your bet. This is a substantial casino reward.
Symbols and Audio & Video Design
This slot is a mixture of fruit, candy, and sweets. That can give you an appetite if you are hungry. The game is full of different colours and full of life. The soft background music adds to the atmosphere and also creates a good adrenaline rush each time you win something.
Compared with other video slot games this is a very simple game. Players can easily choose any features or settings they want to change.
In the table below, you will find a description of the symbols and the payout that each has to offer. You just need to get at least 8 identical symbols at any place on the reels to get a win.
Banana
8-9, 10-11 or 12+ = 0.25, 0.75 or 2x stake
Blueberries
8-9, 10-11 or 12+ = 0.4, 0.9 or 4x stake
Watermelon
8-9, 10-11 or 12+ = 0.5, 1 or 5x stake
Plum
8-9, 10-11 or 12+ = 0.8, 1.2 or 8x stake
Apple
8-9, 10-11 or 12+ = 1, 1.5 or 10x stake
Blue Candy
8-9, 10-11 or 12+ = 1.5, 2 or 12x stake
Green Candy
8-9, 10-11 or 12+ = 2, 5 or 15x stake
Purple Candy
8-9, 10-11 or 12+ = 2.5, 10 or 25x stake
Red Heart Candy
8-9, 10-11 or 12+ = 10, 25 or 50x stake
Lollipop Scatter
4+ triggers Free Spins feature
Rainbow Bomb Multiplier
Appears in free spins + adds multipliers up to 100x
Mobile Features
If you are someone who just prefers to play on your mobile phone you are in luck! This slot is a modern HTML5 game so you can play it on any device.
Just make sure that when you are playing you have enough battery or you have your mobile charger close at hand. Online slot games tend to drain batteries quickly.
Bonus Features
There is only one big bonus game. However, it has a tumble feature that can create a great experience for the players as we are going to discuss below.
Tumble Feature
As we mentioned above, this slot has one of the most popular modern slot features in the gaming industry. As with other cascading slots when you hit a number of winning symbols, they explode and create space for more symbols to drop from above. This means you can potentially get continuous wins from one spin.
Free Spins Bonus Game
When you get at least 4 Lollipop symbols you trigger the free spins bonus. You get 10 free spins and a good payout depending on how many symbols you hit. In the free spin bonus game, you will also be able to get the Rainbow Candy bomb symbol. These symbols boost your chances of getting a multiplier from 2x to 100x your stake.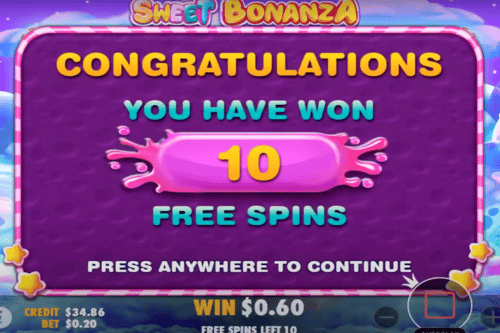 Also, each time you hit more Lollipop scatters in the Free Spin Bonus game you get 5 more free spins to your total.
Ante Bet Feature
The Ante Bet feature is not available in every market, but this allows you to increase your stake from 20 coins to 25 coins. This means your bet amount will increase accordingly. When the Ante Bet feature is active, you will double your chance to land the Lollipop scatters.
Feature Buy Option
You can also buy your way straight into the Bonus Game. The cost will be equal to 100x your current stake.
Jackpot
As mentioned before, there is no jackpot in this video slot. However, to compensate for that, it has lots of free spins, a tumble feature, and decent RTP.
The best thing about this slot game is in fact the number of free spins that you can win if you get the same symbols. If you want to increase your winning chances you can activate the Ante Bet feature.
Biggest Wins
Like we said before there is no jackpot in this online slot. However, with a potential max win of 21,175x the bet you can get a pretty nice max win. If you try your luck and play the highest bet possible there is a chance that you can win up to $2,625,000.
Keep in mind to always play responsibly.
Where can I play the Sweet Bonanza online slot?
The Sweet Bonanza online slot is available at the best online casino sites in Canada. Here is our list of the best Canadian casinos where you can play this slot game.
Sweet Bonanza Summary
Sweet Bonanza is an easy-to-play video slot game which can provide lots of fun. It offers plenty of free spins. Even though the slot is already three years old its popularity has not diminished. It can also give some nice sweet wins as well as long as you can get into the bonus game. The slot game is so popular that Pragmatic Play has released updated versions of the game and it has become one of its most popular franchises.
Sweet Bonanza FAQs
Here are some of the most common questions that players from Canada have asked about the Sweet Bonanza online slot.